Social networks, media and web platforms are the standard way in how our societies operate for the purposes of communication, information exchange, conducting business, co-creation, learning and knowledge acquisition. However, the lack of control over the digital content being published and shared, has led the information veracity to be in dispute.
SocialTruth provides an innovative and distributed way to achieve both content and author credibility verification and detection of fake news increasing, thus, the trust in Social Media.
SocialTruth solution along with the implementation of Digital Companion can be used to detect fake news by both professionals (i.e. journalists) and individuals (daily social media users), allowing for improved governance and information veracity in Social Media.
Open Distributed Digital Content Verification
for Hyper-connected Sociality
SocialTruth project focuses on creating an open, democratic, pluralistic and distributed ecosystem that enables easy access to various verification services, ensuring scalability and establishing trust in a completely decentralized environment.
SocialTruth solution, will provide individuals with easy access to the capabilities of novel data-driven services such as fake news detection, based on AI technology and content verification trust and integrity based on blockchain technology.
SocialTruth will integrate its content verification services with various platforms: web search; journalists tools; content development; and browser add-on, and will deploy services them in different application scenarios. Each scenario will provide opportunities for validating different aspects of the SocialTruth meta-verification paradigm:
Checking sources in the production process.
Digital companion for content verification.
Search engine rankings & advertising preventions for fraudulent sites.
External sources reliability check in the educational domain.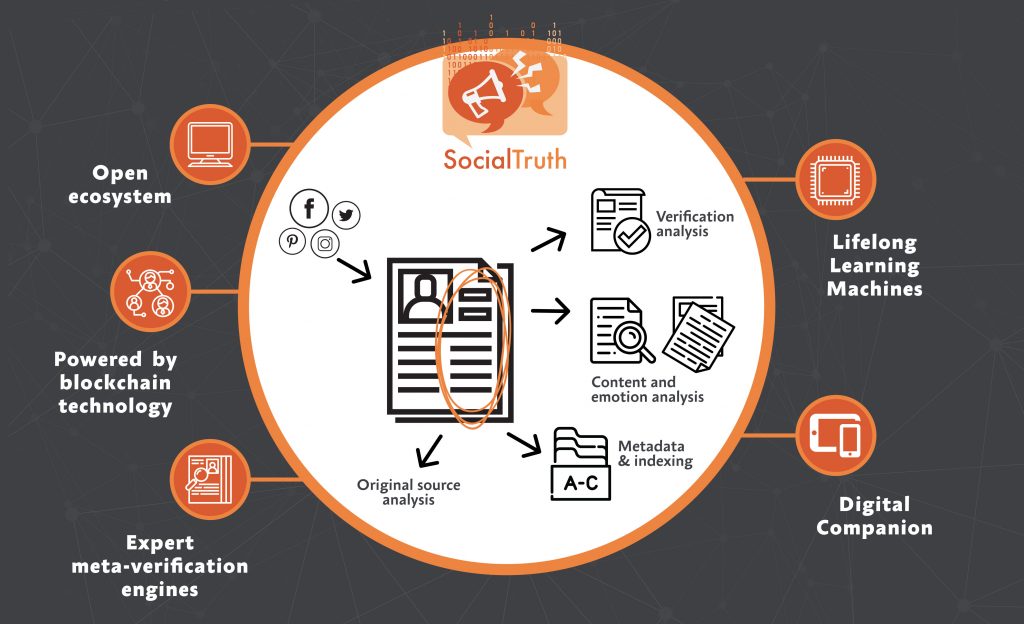 SocialTruth as an innovation offers a unique set of competitive advantages that can be summarized as follows:

Open
ecosystem
Open ecosystem with standard interfaces and no vendor lock-in, favouring pluralism and the deployment of reusable, interoperable and interchangeable verification services.

Powered by blockchain technology
Powered by blockchain technology, for distributed reputation and trust, enhanced security and auditability, with no intermediaries and central authorities.

Expert meta-verification engines
Expert meta-verification engineswith open design that can intelligently fuse multiple verification results.

Digital
Companion
Digital Companion ensuring convenient access to both professional and individual users.

Lifelong Learning
Machines
Lifelong Learning Machines that constantly accumulate experience and learn new paradigms of fake news.

ICCS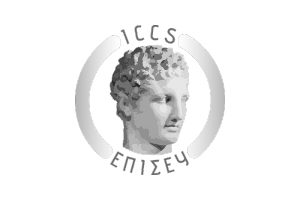 The Institute of Communication and Computer Systems (ICCS) is a non-profit Academic Research Body established in 1989 by the Greek Ministry of Education. In FP7 ICCS ranked in the 19th position with respect to funding among all European research establishments, companies and universities. Together with NTUA (its academic branch), it ranked in the 12th position.
The aim of ICCS is to carry research and development activities in the fields of all diverse aspects of telecommunications and computer systems, as well as their application in a variety of areas.
The personnel of ICCS include more than 500 research associate scientists.
ICCS aims to remain ahead of the wave of change in ICT by cooperating with industry and academia in highly distributed systems, energy management, machine learning, secure data and communication networks, contextawareness and data mining related projects.
ICCS will hold the role of Project Coordinator bringing into the project its significant project management expertise in administrative and financial tasks, as well as its scientific and technical expertise in social networks analysis, system integration, machine learning and data analytics techniques, classification tools, as well as software design and implementation.
THALES
Thales Services SA represented by ThereSIS Laboratory. ThereSIS is an applied research Laboratory focusing its activity into a number of key areas, starting with architectures for Web-based services (SOA, Peer2Peer, Cloud, ICT convergence, etc.). Second focus area is information system security (Information Assurance) and resilience (i.e., the ability to withstand attacks). Another area of is open-source Softwares and open standards, which are critical to system interoperability. Fourth main focus is the application of modeling and simulation technologies for information system security. ThereSIS teams are also deeply involved in end-to-end supervision and administration for extensive, distributed architectures, semantic enhancement of web services and new internet usages where they are leading or contributing to a number of significant projects on the field.
Thales Services will have the role of innovation manager in the project and will lead the development of the blockchain solution. Thales Services will also participate in the design of the architecture and in the security and privacy design, as well as in the implementation of the verification agents and the open APIs. Finally, Thales Services will also contribute in the verification, integration and deployment of the system and the in the dissemination and communication activities and exploitation and business planning.
ADNKRONOS
Adnkronos is part of Adnkronos Group, which comprises 7 companies controlled by the parent company: GMC Sapa.
Adnkronos is the first leading private news agency in Italy and the second one according to dimensions (turnover and number of journalists). "Adnkronos Agenzia di Notizie" (press agency) was established in 1963 has its headquarters in Rome and several newsrooms in the major Italian cities and in Brussels. Through the years, it has been expanded to include
Adnkronos International, which provides news and reports in Arabic and English, mainly from the Middle East scenario.
In the late '90s, Adnkronos was the first news agency in Italy to provide news for free on its website, the first Italian news agency having a presence on social media in 2007 – when the rising stars of Facebook and Twitter. Adnkronos has been among the first news companies in Italy to invest in online news distribution for professional customers and free users, assuring a strong presence in the social media market by delivering its content production through a wide range of devices and systems.
Adnkronos will be one of the available End Users in the project. Adnkronos will be actively involved in the identification of use cases & requirements, in the hands-on trials and in system's evaluation and finally in the communication & marketing of the project's results.
EXPERT SYSTEM
Expert System (ES) is a technology company developing big text/data analytics solutions, including a Natural Language Processing (NLP) engine and a complete semantic network for performing advanced text analytics tasks, development and management of taxonomies and ontologies, automatic categorization and information extraction.
Over the last thirty years, ES has developed a unique expertise in the application of this proprietary knowhow to the analysis of documents regarding technology (e.g. patents, scientific articles, conference proceedings, etc.) in order to extract trends and perform automatic foresight. The expertise of ES includes the management of most common standards for importing and mapping available customer ontologies in order to facilitate interoperability (transfer and normalization tasks).
Founded in 1989, ES currently has a permanent staff composed of 115 professionals.
Expert System will contribute in the definitions of the scenarios and requirements of the system as well as in the socio-technical and human aspects. Apart from that, Expert System will lead the development regarding the textual and semantic analysis service, the development of the Expert Meta-Verification system as well as the implementation of the open APIs. Finally, Expert System will also contribute in the hands-on trials and system evaluation, as well as in the dissemination and communication activities and open standards.
INFOCONS
InfoCons is a non-governmental, representative and Independent organization of private law, whose mission is to work for a fair and safe marketplace for consumers.
InfoCons was founded in 2003 to comply with consumers' needs in Romania and joined Consumers International in January 2012, aiming to be part of an international network and to be in touch with organizations with same objectives, hoping to collaborate and start new partnership with others. Since its establishment, InfoCons has being carrying on an uninterrupted activity representing consumer's interest and welfare.
InfoCons will have the leading role in the hands-on trials as well as in the community building and open standards task. InfoCons will also contribute in the definition of use cases and requirements, in the communication and dissemination activities and in the impact evaluation of the project.
LSBU
London South Bank University is one of London's largest and oldest universities. Since 1892, it has been providing vocationally-relevant, accredited and professionally recognised education. LSBU received the highest possible rating for the quality of our education from the independent Quality Assurance Agency (QAA).
The Division of Computer Science offers professional body accredited and industry-endorsed specialist undergraduate and postgraduate programmes in Computer Science, Cyber Security and Data Sciences. The
Division has two main research centres: Big Data and Informatics, and Smart Internet Technologies (SuITE). It also has an Industry Advisory Board that features representatives from major organizations such as VISA, IBM and Cisco.
LSBU will design and develop deep learning algorithms for the verification of multimedia content. Additionally, LSBU will participate in the design of the system architecture, in the verification of SocialTruth solution and in the dissemination and communication activities for the breaking news use case scenario. Finally, LSBU will hold the project's ethics management.
QWANT
QWANT develops, operates and provides internet users with an innovative Web search engine: www.qwant.com. It is characterised by an adaptable layout of results according to the user query. Results in Qwant are usually organised into one multimedia row and three columns, one for conventional web, and two for news (real-time display of publications in the digital press) and social network (real-time feedback of opinions on social networks).
By offering a broader view integrating social networks, which is more neutral (no listing 'biases') in a safe and privacy-friendly manner (no recording of the internet user's history or tracking), QWANT has found real success and today, has the largest audience ever achieved by a European search engine.
QWANT will contribute on the definition of use case scenarios and the architecture design; data crawling & social mining; implementation of the Digital Companion; integration, trials & evaluation; and exploitation.
TECOMS
Tecoms is a consulting and research company in the fields of law and security technology. With regard to the aspects of legal advice, the main focus is on data protection and privacy law. Privacy law compliance consultancy involves analysis of data collection information, data processing notification, third parties and transnational data transfers, active and passive access to data exercise procedures, data processing and storage security.
Tecoms has multi-year experience in developing and deploying hardware and software solutions for data collection and analysis for the intelligence industry. Specifically, in the software sector, Tecoms distributes in Italy the leading market solution for investigating metadata for law enforcement and intelligence.
TECOMS will have the leading role in the security and privacy design of the SocialTruth solution and will contribute in the definition of the scenarios and the use cases, in the design of the system architecture, in the content verification analysis, in the blockchain implementation as well as in the exploitation and communication activities.
UTP
University of Science and Technology (UTP) in Bydgoszcz has over 65 years long tradition going back to 1951.
The Faculty of Telecommunication, Information Technology and Electrical
Engineering involved in the project has a great experience in information management, data analytics, cyber security, Critical Infrastructures Protection, as well as awareness raising areas. The researchers of the Faculty took part in numerous research, consulting and development projects (EU and national). These projects focused not only
on the development of new technical solutions, but also on the dissemination of the acquired knowledge and experience among the industrial partners, governmental institutions, as well as small and medium enterprises. They worked for various entities, including: governmental sector, municipalities, telecommunications operators, energy operators, corporate customers, as well as small and medium enterprises.
UTP will be the technical manager of the SocialTruth project and will lead the design of the distributed architecture, the implementation of the content verification agents and the integration and deployment of the
prototype. Apart from that, UTP will contribute in the definition of uses cases and requirements, in the privacy and security design of the system, in the design and implementation of the multimedia verification service, in the implementation of the meta-verification system.
Z&P
Zanasi & Partners is a security research and advisory company active in EU and MENA areas. Z&P serves its customers by focusing on data science solutions. Its main clients include national and international public institutions – including LEAs and intelligence agencies – and leading technology companies.
Its professionals and partners can rely on a two-fold background: security/intelligence and advanced technology skills.
Z&P will have a leading role in the protection and data management and the socio-technical and human aspects. In addition, Z&P will contribute to the definition of use cases and scenarios, in the textual and semantics analysis, in the blockchain implementation, as well as in the dissemination and communication activities.
DeA
DeAgostini Editore, established in 1901 in Italy, is a major publishing operator and is currently publishing in 30 Countries and in 13 different languages. Currently the company is structured into different operating specialized companies working in the multiple publishing arenas including: books, partworks, school, TV and kids products.
DeAgostini Scuola is the company dedicated to the school market and is the one of major industry players with a production aimed at schools and institutions of all levels, including University level.
De Agostini Scuola develops digital and innovative educational projects that meet the needs of teachers.
DEASC will contribute in the definitions of the scenarios and use cases as well as in the socio-technical and human aspects of the project. In addition, DEASC will participate in the hands-on trials and the evaluation of the system.